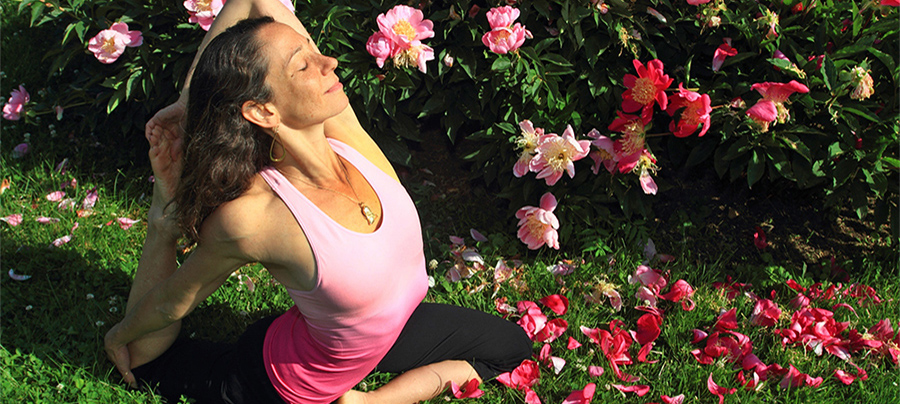 Therapeutic Yoga
Healing from the Inside Out:  Alignment Based Therapeutic Yoga
This comprehensive Therapeutic Yoga training is for yoga teachers and dedicated students alike who wish to gain a deeper understanding of how to facilitate healing from the inside out.  Though the path to healing is entirely unique for each person, basic biomechanical principles can be applied in repeatable steps to facilitate healing of the body and empowerment of the heart.
In these classes, students and teachers alike will learn observation skills, hands-on therapeutic adjustments, anatomy, and an overall appreciation of how yoga can bring body, mind and heart into deep unity to facilitate overall healing.
Deb often offers Yoga Therapeutics as part of her weekend workshops offered worldwide.   The entire Therapeutics training consists 12 classes which combine focus on structural injuries, conditions that involve specific organs and organ systems, subtle/pranic body imbalances and psychological wellness.  Sponsors may pick from any of the below class descriptions for hosting options:
Structural injury classes:
Conditions of the Feet & Ankles
Conditions of the knees
Conditions of the Lower Back
Conditions of the Hip Therapeutics
Conditions of the Shoulders and upper back
Conditions of the neck, elbows and wrists
Each class includes:
Basic Anatomical and movement principles for the bones, muscles and joints
Explanations as to how the subtle/energetic body interfaces with structural injury and healing
An overview of the most common conditions and injuries associated with each part of the body
A discussion on therapeutic similarities and differences between conditions  
Relevant application of Principles of Alignment for each condition   
Classes with focus on organ systems:
Yoga for auto-imune conditions such as chronic fatigue, epstein barr virus and fibromyalgia through gentle active sequences, short timings, basic pranayama and restorative yoga
Yoga for Anxiety and Depression, Insomnia, PMS, infertility and a variety of common digestive complaints
Yoga Philosophy as Inspiration for transformation and empowerment:
Class focus on Tantric Cosmology, the malas and the Yogic science of the koshas, hip openers, and the more subtle practices of pranayama and meditation.

Class focus on the Tantric science of the Rasas as a path toward emotional freedom.  Active practice of standing poses and back bends.
Class focus on the gunas and the elements and their influence on the creation of the body-mind.  Active practice of Inverted positions, restoratives, and meditation.
Class:  Releasing frozen trauma, exploring the energetic matrix of the nadis and pranas with an active practice of twisting postures.