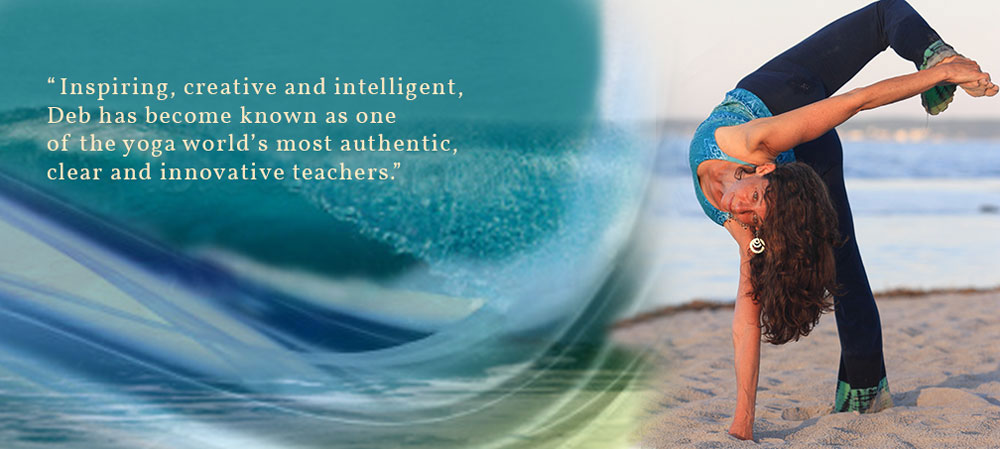 About Deb
Deb Neubauer, Certified Yoga Teacher
I first encountered Yoga in the Spring of 1986, while completing my Bachelor's degree at the University of Massachusetts of Amherst.    I had been an athlete all my life, competing in a variety of different sports throughout my elementary and college education. As a result, I had racked up quite a number of serious physical injuries that kept me experiencing daily pain. 
My early experiences of Yoga introduced me to the understanding that I could actually participate in healing my injuries.   Thus, for me, Yoga began at a very physical, structural level.  Through the practice of Iyengar Yoga, I began a daily practice focused on rehabilitating my knee, which I had recently injured.
In the fall of 1987, I traveled to the Iyengar Yoga Institute in Pune, India, where I met BKS Iyengar himself, as well as his son Prashant and his daughter Geeta.  For 3 months I had the opportunity to take daily classes, practice side by side with BKS Iyengar, receive a therapeutic sequence for my low back from BKS Iyengar, and observe every medical and open public class that the Iyengar's taught.  I returned to the Iyengar Institute three times in the next10 years and experienced the power of Yoga penetrating through my body and into my mind.  As I deepened in practice, I began to open to the concept of Yoga as a life-long spiritual path.
Over the next 7 years, I went on to study with many of the world's foremost authorities in Iyengar Yoga, Ashtanga-Vinyasa Yoga, Meditation and New Age Wellness.  Teachers such as:  Patricia Walden, Mary Dunn, Rodney Yee, Manouso Manos, Tim Miller, Richard Freeman, Deepak Chopra and Gurumayi Chidvilasananda were all sources of incredible inspiration for me.   By the time I applied to the Yoga Alliance to become an E-RYT 500, I had logged over 10,000 hours of study and practice, and another 10,000 hours of teaching experience.
In 1993, I met John Friend, who I instantly recognized as my next teacher.  John was an Iyengar Certified teacher at the time, but there was clearly something different about his teachings.  John showed me how to use the power of the practices to heal my body, align my mind and open my heart.  For this incredible synthesis of the Tantric teachings of embodied consciousness and bliss, I am eternally grateful. 
John also showed me how to help others on their path of healing.  For this also, I am extremely grateful.  I became the 16th teacher to be certified in Anusara Yoga ®, was one of the original 7 teacher trainers' and one of the original founding members of the system.  I ultimately went on to serve the ethics, certification and curriculum committees, before resigning in 2012.
In 1995, I met Gurumayi Chidvilasananda and was introduced to the practices of chanting, meditation, seva and scriptural inquiry, all practices of Siddha Yoga Meditation.  Over a period of 10 years, I traveled to Ganeshpuri, India and Shree Muktananda Ashram in South Fallsburg, NY for summers, winters, and quarterly meditation retreats and courses with Gurumayi and her teaching swami's and scholars.  It was there that I got introduced to formal sadhana and the grand scope of the Yogic path.
In 2008, I began intensive study and meditation practice with Paul Muller Ortega, PH.D, and became a student of Blue Throat Yoga and Neelakantha Meditation.  I no longer exclusively practice Neelakantha Meditation, but I continue to find my meditation practice to be an endless source of connection to that which is most precious and meaningful inside, and a stream of insight and wisdom that is limitless and inexhaustible.
Since resigning my Anusara certification in 2012, my teaching has become more authentic and self-empowered.  I feel that the wealth of experiences I have accumulated over 26 years of formal practice and study now lives inside of me continuously revealing their depth, meaning and potency in every practice, class and workshop I offer. 
In every class, I commit to being your guide.  I see it as my role to help guide you to the place where your own knowing expands; where you are able to find what is most precious and meaningful inside yourself.  Through high quality instruction, from ever new, cutting edge sources, I will always endeavor to honor the vast, ancient and timeless lineage of Yoga.
May we be protected together on the path of Yoga!
May Yoga inspire each of us
to find what is most deeply meaningful!
May our Yoga continually nourish and inspire our hearts!
It is truly a delight and an honor
for me to share the path
with you!!
"Discover your truth.  Live your truth.  Be your truth.  Love your truth.  Continuously delight in the ever unfolding of your clearest, deepest, truth!!"
Namaste,
Deb Neubauer